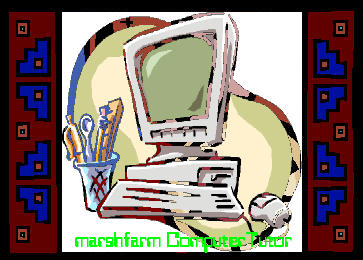 Welcome to marshfarm
ComputerTutor
It's here! The long awaited marshfarm ComputerTutor Downloading Tutorial!
I'm in the process (whew!) of updating this page and hope to complete it soon.
I will include links to some e-mail lists, help columns, on-line magazines and free software that I consider "must have".
Try again later!
Contact marshfarm ComputerTutor: e-mail: mfComputerTutor@aol.com


To learn why I recommend America On-line click on the button above!
I highly recommend Lockergnome, the premier internet newsletter. Chris Pirillo surfs the Internet so you don't have to!
Get Lockergnome's FREE E-mail Newsletter:
Cool Windows 95/98/NT/2000 Information!

---
These pages were created in StarOffice 5.0, my HTML editor of choice. I downloaded it free off the internet. 5.2 now available!